Today I thought I'd share a few tips on how to use the Crop Tool in Lightroom. The Crop Tool is a powerful tool when used to crop and straighten an image while maintaining a specific aspect ratio. But have you tried using the Crop Guide Overlay?
In an earlier post I wrote about how I use the Golden Triangle as a compositional guide when setting up a flat lay.
When setting up a flat lay, I strive to hit the "sweet spots" in camera and use the Crop Tool to fine-tune my image. Often as I crop in Lightroom and analyze my image, I have to go back to my setup and rearrange a few elements to line everything up properly. Then I take another shot.
You might want to check my previous post The Golden Triangle in Photography to learn why I use this guide.
Please note: these instructions are for a Mac.
How to Use the Crop Tool Overlay
Open the Crop Tool Panel
In Lightroom, with your desired image open, go to the Develop Module
In the Menu Bar, click on the Crop Tool or Press R (the keyboard shortcut) to open the Crop Tool panel
Choose your desired Aspect Ratio (I usually choose 4×5)
Crop Tool Overlay Settings
In the Menu Bar, choose Tools > Crop > Tool Overlay
Choose > Always Show
Crop Guide Overlay
In the Menu Bar, choose Tools > Crop Guide Overlay
From the drop-down menu, choose an overlay from the list: Grid, Thirds, Diagonal, Center, Triangle, Golden Ratio, Golden Spiral, Aspect Ratios
Cropping an Image
After (strategically) placing your main elements on your background, take a quick shot and load it into Lightroom.
Click on your image and your chosen guide will pop up. You can move it around to try to hit the "sweet spots".
In this image, the "sweet spots" are the large salad bowls.
At this point you can toggle through the overlays by pressing the letter "o" on your keyboard (try it and see—it's fun!).
If the bowls aren't positioned properly, this is when I go back to my flat lay and make adjustments.
When I'm satisfied with my composition, I start placing my supporting elements (ie salad, fruit, etc.), finish shooting and then crop my final image.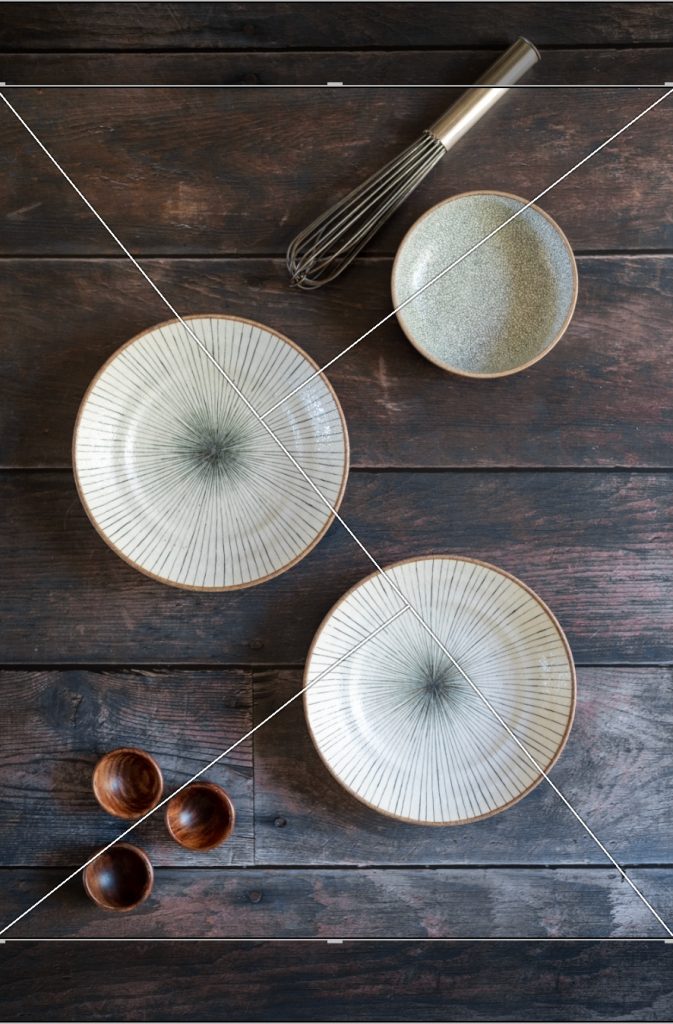 Remember, when using the Golden Triangle (or any other guide) as a compositional tool, it all starts with setting up the flat lay in the first place and to capture it "in camera". The guides are simply to help you fine-tune and crop an image to end up with the best composition possible.
OK! I really hope this has been helpful and if you have any questions please leave a comment. I answer every single comment on my site as soon as possible (and if I miss something, let me know—it's not intentional).
JOIN MY NEWSLETTER TO RECEIVE…
encouraging quotes, helpful tips on setting goals, making the most of your backgrounds, Lightroom editing tips, and more!